The Best 6 Ways To Keep Your Bathroom Mold-Free
Mold loves damp, moist spaces, so be proactive and keep moisture and humidity to a minimum in your bathroom. Avoid a serious mold problem with our 6 best mold-free bathroom tips.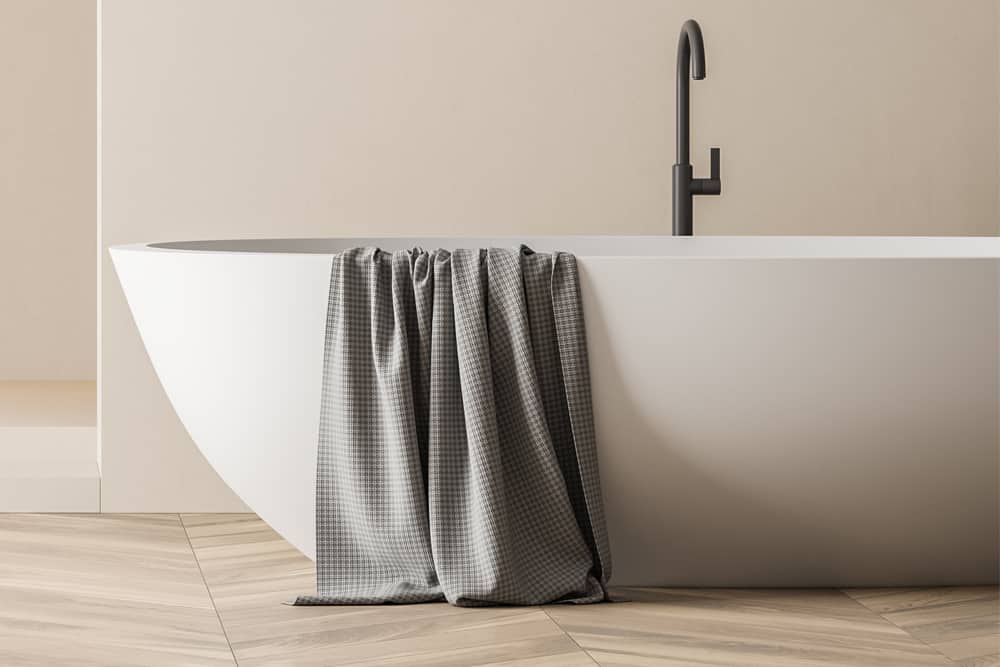 Disclosure: This post contains affiliate links, which means if you make a purchase through these links, we may receive a small commission at no extra cost to you.
A steamy shower in a small, enclosed bathroom is the perfect breeding ground for mold. Mold takes every opportunity it can to take hold and grow in damp, moist spaces, and the bathroom is like a match made in heaven for mold. Mold is not only hazardous to your health, it can cause damage to baseboards, molding, windowsills, floors, ceilings, walls and more.
Be proactive and avoid a serious mold problem with our 6 best practices to prevent mold growth in your bathroom. By employing these mold-free bathroom tips, you can avoid getting to the stage where you need to hire a professional, which is time-consuming, stressful and expensive (I know this from experience).
Follow the steps below to prevent mold from multiplying in your bathroom. If you stick to these 6 tips, you'll have a mold-free bathroom without the worry of damage to your health and home.
Rethink Your Bathmat
The Problem: A wet bath mat that never completely dries out and starts smelling like mildew.
The Solution: Unlike traditional bath mats that absorb moisture and generate bacteria, the Dorai Bath Stone is designed to instantly remove water, actually helping prevent mold. It's created with diatomaceous earth and has the feel of natural stone. Not only does it dry instantly under your feet, it's a chic addition to your bathroom!
Open The Window &/or Turn On The Fan
The Problem: A moist, dank enclosed space with little airflow is mold's best friend.
The Solution: If you have a window in the bathroom, open it while you shower and for at least 15 minutes after you shower or bathe. If you have a bathroom fan, turn it on for about 30 minutes to move some of the moist air out of the room. Make sure your bathroom fan vents outside.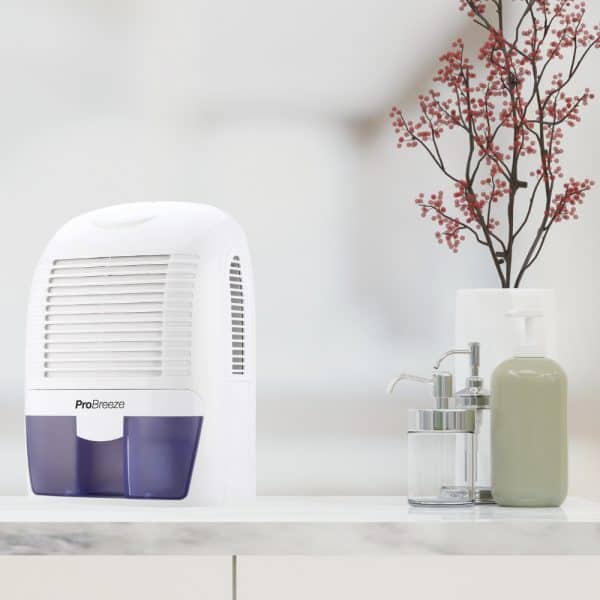 Use A Dehumidifier
The Problem: Shower time creates hazy, moisture-laden air that has nowhere to go. Water droplets from the air land on any surface that they can, allowing mold to quickly grow.
The Solution: Keep moisture and humidity to a minimum. The Pro Breeze Mini Dehumidifier is capable of removing up to 18 ounces of water per day with a 52-ounce water tank capacity. It's lightweight, compact. quiet and portable, and can cover up to 3000 cubic feet (250 sq ft). the Pro Breeze Mini Dehumidifier features an auto shut-off and an LED light turns on indicating the water tank needs draining.
Squeegee Flat Surfaces
The problem: Steam clings to surfaces after you bathe. This moist environment can encourage mold growth.
The Solution: After you shower, remove excess moisture from tile, the edge of the tub and glass surfaces with a squeegee and an absorbent cotton rag. We love the Full Circle Shower Squeegee, which has a renewable bamboo handle.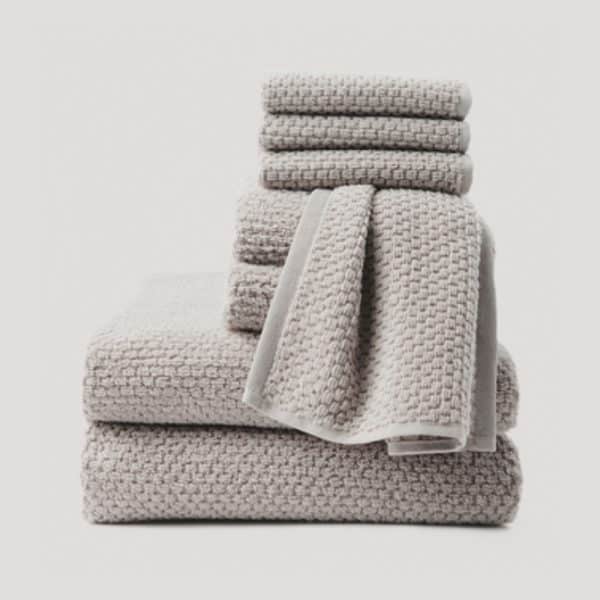 Thin Cotton Towels
The problem: Ultra-plush towels may feel luxurious, but on an everyday basis, they take forever to dry out and can stay smelly and damp, promoting mold growth.
The Solution: Use thin, quick drying towels to prevent trapped-in moisture and funky smells, and wash your towels regularly. Try the quick-drying Pact Organic Waffle Towel Set. These towels are Pact's lightest bath fabric yet. They're breathable, quick-drying, and fluffed to perfection. Made with combed, long-staple organic cotton from Turkey.
Shower Caddy
The Problem: Water can become trapped under your shampoo and body wash bottles if they sit on a solid surface. The underneath surface and surrounding area become slimy, moldy and gross.
The Solution: Store any products that are in the shower in a quick-drain shower caddy. This sturdy and fast draining shower caddy holds up to 40 pounds.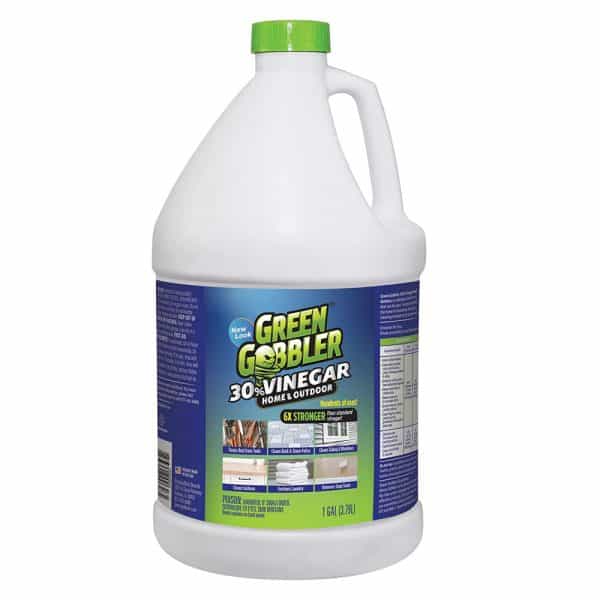 How To Remove Mold With Vinegar
Get rid of the mold in your bathroom with strong vinegar, which effectively removes mold from all surfaces, including porous materials like wood. The vinegar intended to kill mold is not the same vinegar that you would use on a salad or for cooking. Use a 30% vinegar solution, which you can get online or at your local hardware store. Green Gobbler 30% Concentrated Vinegar is six times more powerful than traditional vinegar.
Did you know that bleach is not effective for eradicating mold and can jeopardize your health? Bleach only kills surface mold and does not kill the roots hidden in porous surfaces.
Wear rubber dish or chore gloves and an N95 mask so you don't breath in any mold spores.
Open the bathroom window and/or turn on the fan.
Spray Green Gobbler 30% Concentrated Vinegar directly on the mold.
Let the solution sit for a few minutes, then use a hard-bristle brush to scrub the affected area.
Rinse the area with water.
Repeat this a few times if you notice any areas that still look moldy until all the mold is gone.
Once all of the mold is gone, spray the area once more with the vinegar solution and let it site for about an hour.
Rinse with water, then squeegee and dry with a clean cotton rag.
More Natural Living Inspiration