Natural & Sustainable Dried Flowers & Grasses For Your Home
Ditch plastic flowers and display a bunch of beautiful, sustainable and eco-friendly dried flowers and grasses. Natural dried flowers and grasses in neutral fall colors are perfect for adding warmth and texture to your space.
Disclosure: This post contains affiliate links, which means if you make a purchase through these links, we may receive a small commission at no extra cost to you.
Want to add texture and warmth to your living space? Dried flowers and grasses are the perfect touch for fall and winter décor. I like them better than plastic flowers because they're literally the dried version of a real plant. Dried flowers and grasses will biodegrade when you switch them out – the thought of millions of plastic bouquets piling up in the landfill is so sad!
If your home needs some finishing décor touches like flowers and vases, I've found 15 dried flowers and grasses that are ready for your favorite vase. From creamy neutrals to warm fall tones to rustic vases, there's a bunch of dried flowers and grasses that's perfect for your house!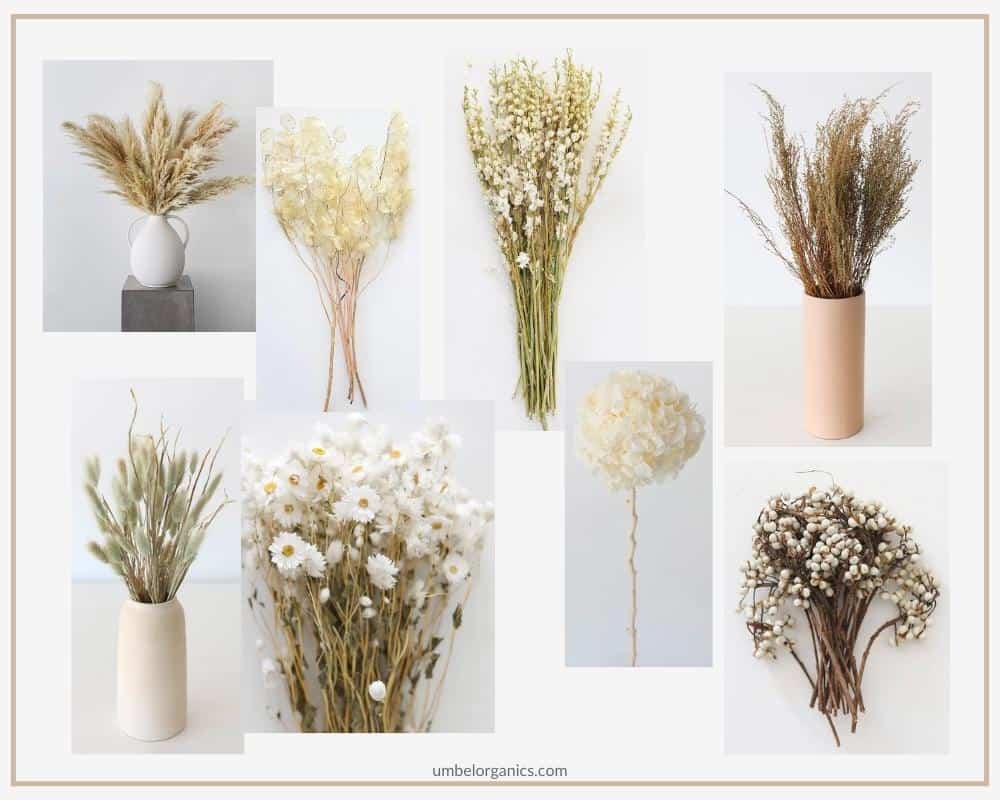 Creamy Neutral Dried Flowers & Grasses
Dried Natural Pampas Grass– 40-48″ Tall, Plumes, 24-30″ Tall x 5-7″ Wide, 3 Stems per Bundle, Dried
Natural Coastal Dried Lunaria Flowers– 24-34″ Tall, Leaves, 1.5-2″ Tall x .75-1.5″ Wide, 3-4 Branches per Bundle, Dried and Delicate
Cream Dried Larkspur Wildflowers– Approximately 23-26″ Tall, 5 oz per Bunch, 30-35 Stems, Air-Dried, Not Dyed
Natural Solidago Goldenrod Dried Flowers– 12-20″ Tall, 45-55 Stems per Bundle, Dried, Not Dyed, Natural Color, Shedding will occur when separating
Natural Green Dried Bunny Tails– 6-16″ Tall, Blooms, 1-3.25″ Tall x .5″ Wide Blooms, 35-45 Stems per Bundle, Dried
White Preserved Rodanthe Flowers– 22-28″ Tall x .25-1″ Blooms, 26-30 Stems per Bundle, Preserved and Delicate
Preserved Hydrangea in Cream– 22-24″ Tall x 9-10″ Bloom, Preserved, Large Petal
White Natural Dried Tallow Berries– 6-8″ Tall, 3 oz Bundle, Dried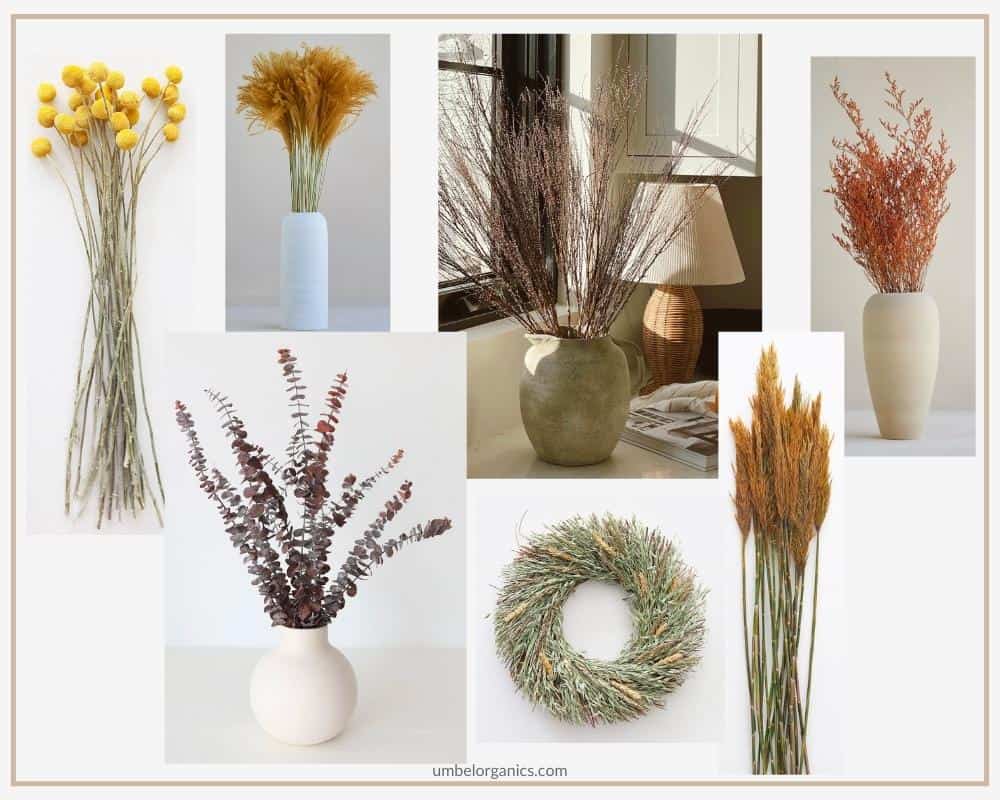 Neutral-Colored Fall Dried Flowers & Grasses
Dried Craspedia Billy Buttons– 18-26″ Tall x 1-1.25″ Blooms, 25 Stems per Bundle, Dried
Golden Pampas Grass– 24"-26", Color: Natural golden, Suitable for a table vase (Recommended vase size: 8"-10" tall)
Dried Hoary Willow Branches– 20-30″ Tall, 10-12 Branches per Bundle, Dried
Brown Limonium Preserved Flower Bunch– Handmade Preserved Limonium, Height: 27 inches
Preserved Frosted Brown Spiral Eucalyptus– 20-28″ Tall, 8-10 Stems per Bundle, Preserved and Dyed, Color May Bleed
Natural Dried Wheat Grass Wreath– 18″ Wide x 7.5″ Opening x 5.5″ Wide Twig Base, Dried, Metal Hoop Base and Round Metal Hanger
Gold Dried Plume Reed Grass– 36-40″ Tall, Plumes, 8-12″ Tall x 2-3.5″ Wide, 18-20 Stems per Bundle, Dried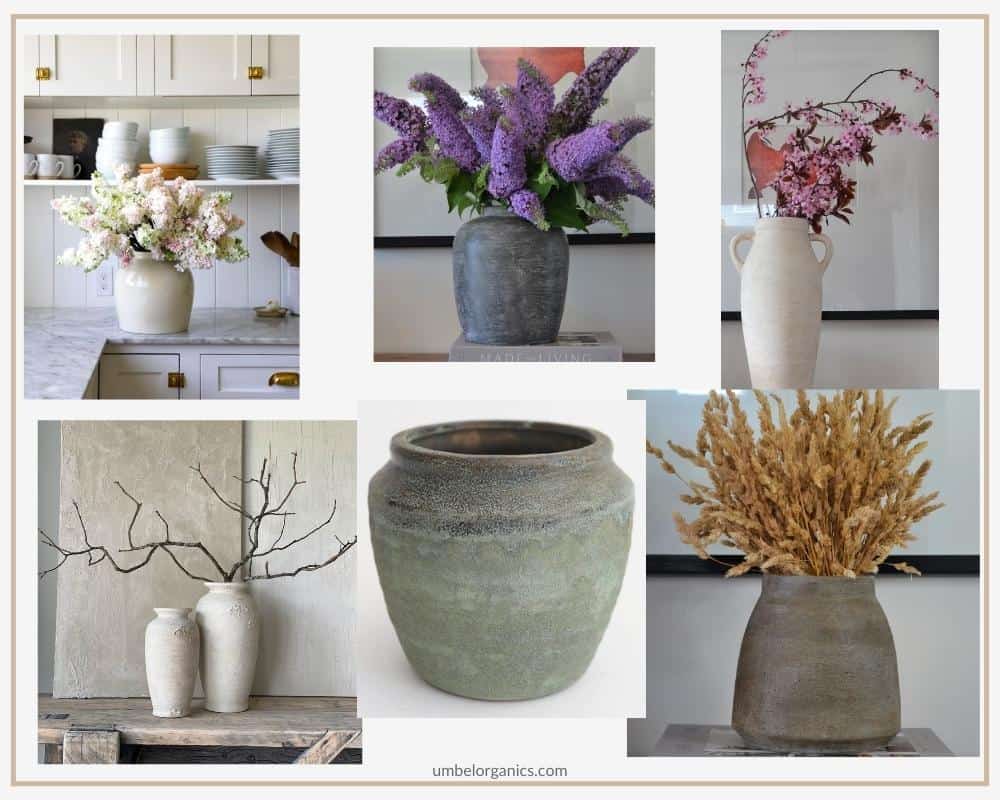 Rustic Vases
Large Cream Glossy Ceramic Vase– 10.5″ Tall x 10.25″ Wide, Ceramic, Watertight, *Ethically made in China.
Large Grey Ginger Jar– Vintage and weathered texture applied to vase using paint and plaster technique.  pottery Width: 7 inches, Height: 9 inches
White Hand-Textured Tall Vase– Artisan rustic vase. Width: 6.5 inches, Height: 13 inches, Depth: 6.5 inches
Rustic White Vase– Artisan weathered hand-finished vase. Width: 6.5 inches, Height: 13 inches, Depth: 6.5 inches
Medium Brown Textured Vase– Vintage and weathered texture applied to vase using paint and plaster technique.  pottery Width: 5.5 inches, Height: 6.5 inches
Earthy Ceramic Planter Pot– 6.25″ Tall x 7″ Wide x 5″ Opening, Ceramic
More Natural Living Inspiration