The Best Cozy Organic & Eco-Friendly Women's Clothing
Get ready for cold weather with cozy eco-friendly clothing. It's a win for the planet when you cozy up in soft, comfortable clothing that's sustainable too!
Disclosure: This post contains affiliate links, which means if you make a purchase through these links, we may receive a small commission at no extra cost to you.
The monster storms caused by climate change and microplastics found at the top of Mount Everest are both reasons why we should do better by Mother Earth. Kudos to you if you're drinking out of a stainless steel reusable water bottle and brushing with a bamboo toothbrush.
If you haven't dipped your toes into the sustainable clothing industry, now's the time. The fast fashion clothing industry is a major player in environmental damage, and approximately 10% of the chemicals used in producing textiles are considered to be harmful to human health.  
Wearing organic and eco-friendly clothing is a great way to reduce your environmental impact and lessen your health concerns. Here are some common fabric materials that you'll see in eco-friendly and sustainable clothing :
Types Of Sustainable Fabric
Organic Cotton: Conventional cotton is the world's most heavily sprayed crop, and organic cotton reduces chemical exposure. Farming with organic practices keeps our waterways free from harmful herbicides and pesticides, promotes soil health and encourages pollinators to visit crops, and keeps the bees, butterflies and birds safe from harmful chemicals. Organic farming also reduces water use and non-renewable energy use compared to conventional farming. 
Bamboo fabric: Bamboo fabric is incredibly soft, and it's more breathable than cotton. It's also moisture-wicking and more absorbent than cotton. Bamboo is a renewable resource that doesn't require pesticides to grow, and is biodegradable.
Hemp fabric: Hemp fabric is naturally antibacterial, with anti-odor properties. The fabric is super comfortable, breathable and gets softer with every wash. Hemp is also organic and eco-friendly.  
Recycled fabric: Recycled materials like polyethylene terephthalate (PET) plastic bottles and nylon fishing nets can be repurposed into fabric. In just one year, Patagonia repurposed over 86 million plastic bottles by making them into clothing- imagine if all those plastic bottles piled up in the landfill!
Wool: wool is 100% biodegradable. Look for companies that use humane and ethical farming practices.
Can Cozy Clothing Be Eco-Friendly?
Yes! Cozy clothing is synonymous with cold weather, and we typically gravitate toward clothing that's soft, comfortable and warm. You may be lounging around all day in cozy clothing, and you might as well buy from companies that have sustainability in mind and have stylish and comfy clothing- it's better for you and for the planet. 
Don't forget to put on a pair of women's organic underwear before you snuggle up in your cozy eco-friendly clothies!
Cozy up in any of the eco-friendly clothing brands below:
Quince
Quince uses premium materials at a fraction of the cost, and sustainability is built into everything they do. Whenever possible, they choose organic materials, environmentally conscientious packaging and ethical business practices.
Materials: cashmere, alpaca wool, organic cotton, organic linen, and 100% recycled polyester
Certifications: GOTS certified organic cotton, Oeko Tex certified
Sustainability: Quince has a factory direct model, minimalistic packaging, and timeless, classic styles.
Highlights from Quince:
Quince Mongolian Cashmere Turtleneck Sweater
Quince Mongolian Cashmere Boxy Sweater
Quince Mongolian Cashmere Pullover Hoodie
Quince Mongolian Cashmere Full Zip Hoodie
Quince Women's Organic Polo Shirt
Quince Women's Mongolian Cashmere Sweatpants
Quince Women's Organic Boyfriend Sweatpants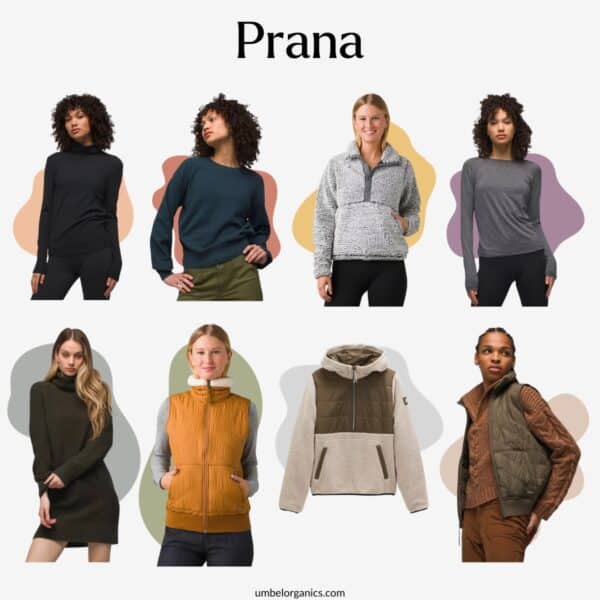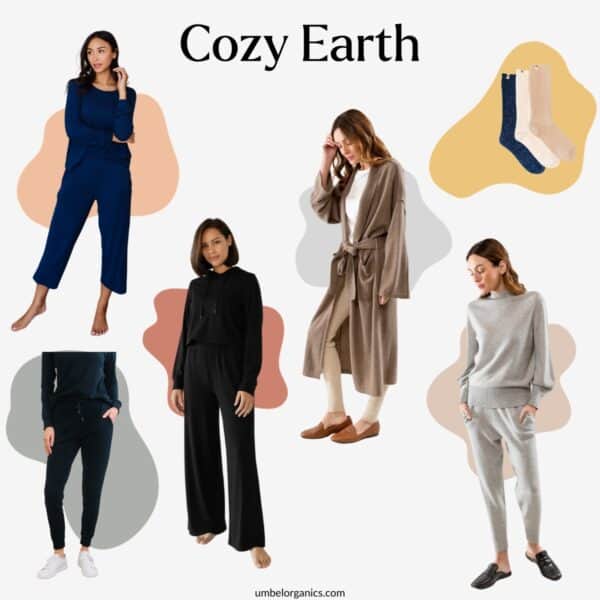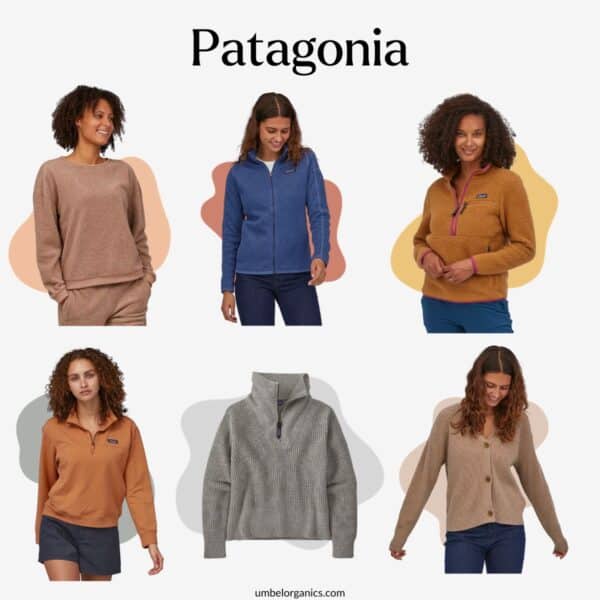 More Eco-Friendly Inspiration: